Aims and Scope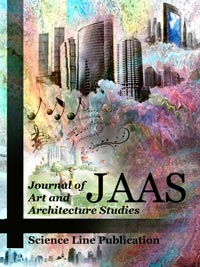 Journal of Art and Architecture Studies (ISSN: 2383-1553) is an open access peer-review publication. All accepted articles are published irregularly in full text on the Internet. JAAS publishes the results of original scientific researches, reviews and short communications, in all fields of art and architecture.

Journal of Art and Architecture studies as Scientific Journal is oriented for professionals and academics dedicated to the critical diffusion of a selection of Planners and architectures and its affiliated disciplines. The relationship with the academic realm allows a permanent contact with JAAS. The provides a multidisciplinary scientific overview will include Article on Urban Planning, Regional Development, Architecture designs, urban design, Music, Graphical Works, Painting, Handcraft studies and etc Arts. Therefore, Journal of Art and Architecture studies covers the main aspects related to the study, including:
Subject about Art major:

Visual arts fields, such as ceramics, drawing, painting, collage, decollage, assemblage, installation, calligraphy, sculpture, printmaking, design, crafts, Handcraft;
Performing arts fields, such as Music, theatre, film, dance, Graphical work, photography, video, filmmaking, as well as literature, and other media such as interactive media that are included in a broader definition of art or the arts;
Applied arts, the application of design and aesthetics to objects of function and everyday use, files, such as industrial design, graphic design, fashion design, interior design, decorative art and functional art as the architecture.
All Subject about Architecture major:
Architectonic and urban heritage: Restoration, rehabilitation and intervention of architectonic and urban heritage. Urban History: Historical evolution analysis of cities, of its physical, economic, social, cultural transformations. Principles and methods evolution for urban planning, land and urban management.

Urban and land studies: Urban and land structure analysis. Cities system and metropolitan areas. Urbanization and building models and morphologies.

Planning and land and city management: Land and urban planning, urban management and planning execution.

Land politics and housing: Land use, generation and recovering of plus values, housing planning and social integral housing, etc.
Planning, transport management and urban mobility analysis and mobility management.

Land and city administration: Land organization, smart administration techniques for urban and land administration reality, social cohesion and participation "Governance".

Urban ecology: urban and land ecosystem, material, energy and information flows analysis and diagnosis.

Urban environment and sustainability: urban life quality and sustainability, environmental diagnosis of urban and land planning, sustainable planning and management of cities, sustainable mobility.

Environmental behavior of buildings and urban systems: thermic, light and acoustic valuation of architectonic and urbanistic spaces: techniques of energy enhancement of the architecture and its environs; integration of energy renewal systems.

Urban and environmental valuation: Land and real estate valuation, feasibility study of economic and social projects integrated to land and urban interventions.

Information city and society: land and urban transformation analysis of the society information era, "knowledge city".

Geographic and land information systems: Urban and land management and analysis, via new technologies. GIS and Remote Sensing.

Urban representation: Graphic expression of city and land, geometry and 3D model, color and shape of city architecture.